© Das Foto darf ausschließlich für PR- und Marketingmaßnahmen des Hotel DAS ZWÖLFERHAUS - Zwölferkogelweg 137 - A-5754 Hinter - www.guenterstandl.de
© Das Foto darf ausschließlich für PR- und Marketingmaßnahmen des Hotel DAS ZWÖLFERHAUS - Zwölferkogelweg 137 - A-5754 Hinter - www.guenterstandl.de
© Das Foto darf ausschließlich für PR- und Marketingmaßnahmen des Hotel DAS ZWÖLFERHAUS - Zwölferkogelweg 137 - A-5754 Hinter - www.guenterstandl.de
© Das Foto darf ausschließlich für PR- und Marketingmaßnahmen des Hotel DAS ZWÖLFERHAUS - Zwölferkogelweg 137 - A-5754 Hinter - www.guenterstandl.de
© Das Foto darf ausschließlich für PR- und Marketingmaßnahmen des Hotel DAS ZWÖLFERHAUS - Zwölferkogelweg 137 - A-5754 Hinter - www.guenterstandl.de
© Das Foto darf ausschließlich für PR- und Marketingmaßnahmen des Hotel DAS ZWÖLFERHAUS - Zwölferkogelweg 137 - A-5754 Hinter - www.guenterstandl.de
© Das Foto darf ausschließlich für PR- und Marketingmaßnahmen des Hotel DAS ZWÖLFERHAUS - Zwölferkogelweg 137 - A-5754 Hinter - www.guenterstandl.de
© Das Foto darf ausschließlich für PR- und Marketingmaßnahmen des Hotel DAS ZWÖLFERHAUS - Zwölferkogelweg 137 - A-5754 Hinter - www.guenterstandl.de
© Das Foto darf ausschließlich für PR- und Marketingmaßnahmen des Hotel DAS ZWÖLFERHAUS - Zwölferkogelweg 137 - A-5754 Hinter - www.guenterstandl.de
Hotel

54 Lôžka, 37 Izba

Familie Hasenauer

Zwölferkogelweg 137, 5754 Hinterglemm - Dojazd
Welcome to Zwölferhaus in Hinterglemm!
Wouldn't you also love to spend a wonderful vacation where you can be active and also indulge in recreational opportunities? Come and stay with us!
After a day out on the piste, you can ski straight home to the lodge...
Our hotel is so close to the slope that you could even ski into the lobby... The cable car which takes you up the Zwölferkogel is only a few meters from our hotel. Forget about carrying your equipment to the bus station and going to a cable car by bus – when staying with us, all you have to do is step outside!
Saalbach Hinterglemm offers unlimited slopes pleasure, completely car-free, as the convenient lifts transport you to the lofty heights direct from the town centres, where you can enjoy the magic of the slopes on 270 km of wonderfully groomed routes.
And by the way, in our ski shop which is conveniently located in the lodge, you can get everything you need in order to be safe on the slope. If you do not bring your own skis, do not worry: our shop has everything you need for the perfect skiing equipment.
Location
The hotel is situated directly next to the Zwölferkogel cable car and near the centre of Hinterglemm.
Rooms
Our rooms offer shower facilities, cable-TV, radio, phone, electronical safe and a corner sitting unit. All rooms have a balcony from where you have a wonderful view of the mountains. All our rooms are non-smoking rooms.
Spa area
While Hinterglemm offers you one of the world's most beautiful mountain scenerey, you can also relax indoors...
Our wellness area is a place for pegging out and relaxing. You can lie down next to the window and enjoy the view of the snow outside or read a good book.
You will find calm, can let the mind wander or get new energy and power
After a day outdoors you can relax indoors by taking advantage of our spa area – you will definitely feel rejuvenated!
Dining
After breakfast you are ready to go!
While having your breakfast (buffet), you can enjoy the view of the slope and the cable car next to our hotel – with freshly brewed coffee in your mug, you can get ready for a great day outside.
Local cuisine...
Our chef and his team are happy to treat you to Austrian and International Cuisine as well as local specialties. Let yourself be spoilt with hearty home-cooked meals and international cuisine in a cosy atmosphere where you will definitely feel at home.
Family Hasenauer and team are glad to see you soon!
Izba/Apartmány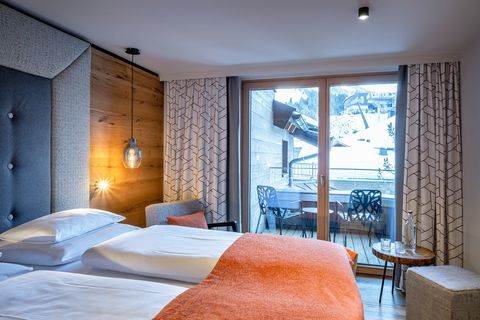 'NATURZEIT' Studio
Double Room

'BERGZEIT' Studio
Double Room

'NATURZEIT' Double room
Double Room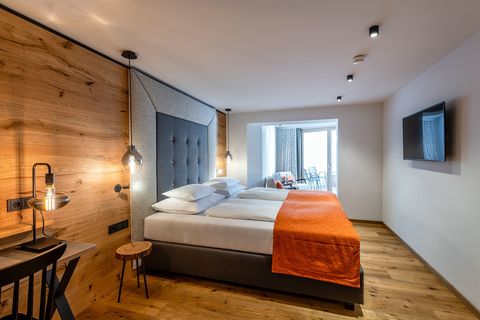 'TRAUMZEIT' Junior suite
Junior Suite

'BERGZEIT' Junior suite
Junior Suite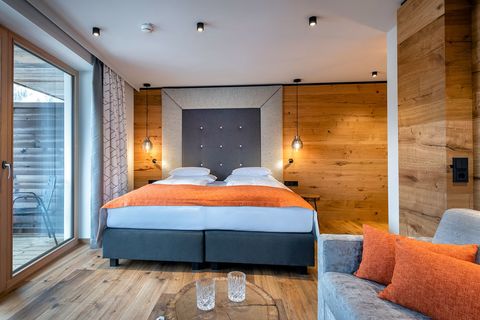 'BERGZEIT' Swiss pine suite
Suite

'WOHLFÜHLZEIT' Swiss pine suit suite
Suite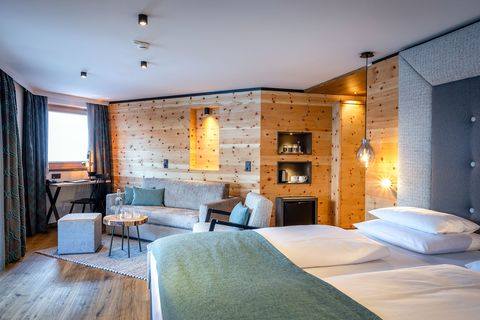 'KUSCHELZEIT' Swiss pine suite
Suite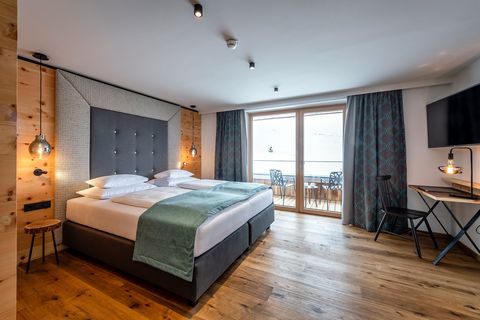 'VERWÖHNZEIT' Swiss pine suite
Suite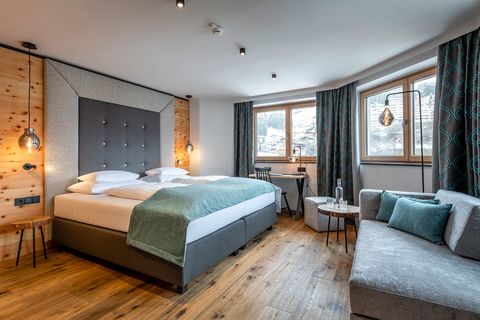 'GENUSSZEIT' Family suite
Suite
Všeobecná dostupnosť
na požiadanie
k dispozícii
ukázať viac
Ponuky Leto
Aktívna dovolenka / Turistická dovolenka / Paušály pre znalcov
Gültig z 07.06.2023 do 01.10.2023
Aktívna dovolenka / Paušály pre znalcov / Cyklistická dovolenka
Gültig z 07.06.2023 do 01.10.2023
Aktívna dovolenka / Paušály pre znalcov / Cyklistická dovolenka
Gültig z 07.06.2022 do 08.10.2023
Ceny
Sommer
07.06.2023 - 01.10.2023
'NATURZEIT' Studio (Double Room)
pro Person / pro Nacht
| Polpenzia
Ortstaxe
pro Person / pro Nacht
'BERGZEIT' Studio (Double Room)
pro Person / pro Nacht
| Polpenzia
Ortstaxe
pro Person / pro Nacht
'NATURZEIT' Double room (Double Room)
pro Person / pro Nacht
| Polpenzia
Ortstaxe
pro Person / pro Nacht
'TRAUMZEIT' Junior suite (Junior Suite)
pro Person / pro Nacht
| Polpenzia
Ortstaxe
pro Person / pro Nacht
'BERGZEIT' Junior suite (Junior Suite)
pro Person / pro Nacht
| Polpenzia
Ortstaxe
pro Person / pro Nacht
'RELAXZEIT' Suite (Suite)
pro Person / pro Nacht
| Polpenzia
Ortstaxe
pro Person / pro Nacht
'BERGZEIT' Swiss pine suite (Suite)
pro Person / pro Nacht
| Polpenzia
Ortstaxe
pro Person / pro Nacht
'WOHLFÜHLZEIT' Swiss pine suit suite (Suite)
pro Person / pro Nacht
| Polpenzia
Ortstaxe
pro Person / pro Nacht
'KUSCHELZEIT' Swiss pine suite (Suite)
pro Person / pro Nacht
| Polpenzia
Ortstaxe
pro Person / pro Nacht
'VERWÖHNZEIT' Swiss pine suite (Suite)
pro Person / pro Nacht
| Polpenzia
Ortstaxe
pro Person / pro Nacht
'GENUSSZEIT' Family suite (Suite)
pro Person / pro Nacht
| Polpenzia
Ortstaxe
pro Person / pro Nacht
Winter
07.12.2023 - 01.04.2024
'NATURZEIT' Studio (Double Room)
pro Person / pro Nacht
| Polpenzia
Ortstaxe
pro Person / pro Nacht
'BERGZEIT' Studio (Double Room)
pro Person / pro Nacht
| Polpenzia
Ortstaxe
pro Person / pro Nacht
'NATURZEIT' Double room (Double Room)
pro Person / pro Nacht
| Polpenzia
Ortstaxe
pro Person / pro Nacht
'TRAUMZEIT' Junior suite (Junior Suite)
pro Person / pro Nacht
| Polpenzia
Ortstaxe
pro Person / pro Nacht
'BERGZEIT' Junior suite (Junior Suite)
pro Person / pro Nacht
| Polpenzia
Ortstaxe
pro Person / pro Nacht
'RELAXZEIT' Suite (Suite)
pro Person / pro Nacht
| Polpenzia
Ortstaxe
pro Person / pro Nacht
'BERGZEIT' Swiss pine suite (Suite)
pro Person / pro Nacht
| Polpenzia
Ortstaxe
pro Person / pro Nacht
'WOHLFÜHLZEIT' Swiss pine suit suite (Suite)
pro Person / pro Nacht
| Polpenzia
Ortstaxe
pro Person / pro Nacht
'KUSCHELZEIT' Swiss pine suite (Suite)
pro Person / pro Nacht
| Polpenzia
Ortstaxe
pro Person / pro Nacht
'VERWÖHNZEIT' Swiss pine suite (Suite)
pro Person / pro Nacht
| Polpenzia
Ortstaxe
pro Person / pro Nacht
'GENUSSZEIT' Family suite (Suite)
pro Person / pro Nacht
| Polpenzia
Ortstaxe
pro Person / pro Nacht
Preis auf Anfrage außerhalb der Saisonzeiten
Spôsoby platby
EC-Card, Cash, Mastercard, Visa Card, Credit Transfer
Poznámky
Inclusive Services & dining
A sumptuous breakfast from the buffet with home-made jams, local honey, freshly made egg dishes, organic teas, speciality coffees and much more.
Snack time in the afternoon with sweet and salty delicacies
A 5-course evening meal with different options. We will also be happy to take your personal requests into account, e.g. a gluten-free or lactose-free diet.
Daily salad from the buffet
Free wifi in all rooms and suites, in the restaurant, bar and reception area
SKY-Wellness on the roof
*More informations about price, room category and inclusive services on www.daszwoelferhaus.at/en/
Hotel

54 Lôžka, 37 Izba

Familie Hasenauer

Zwölferkogelweg 137, 5754 Hinterglemm - Dojazd